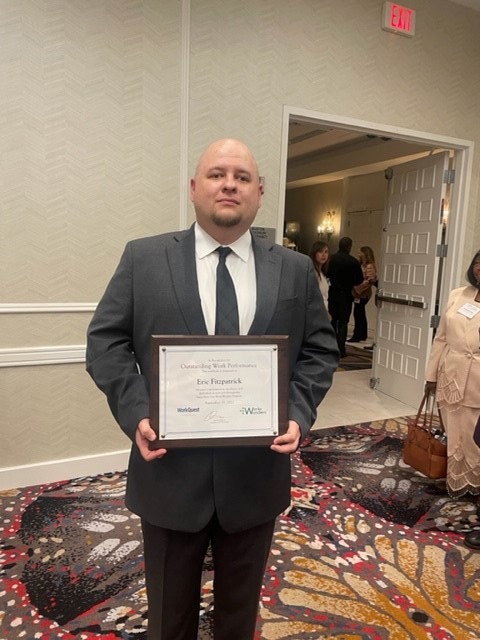 Right in the middle of college studies isn't the ideal time to lose your sight, but in the nearly two decades since that time, STLB's Eric Fitzpatrick has continued to push forward with a successful and productive life, earning this year's Artie Lee Hinds Award.
"My brother went through it a year and a half before I did, so I wasn't totally shocked, but it does turn your life upside down," Eric said.
Eric and his brother, Alan, both STLB employees at the Victoria production plant, lost their sight from Lebers Hereditary Optic Neuropathy nearly 20 years ago.  Eric was in his second semester of college.  He was living the life of the average college student, attending classes, studying and spending time with his girlfriend, when he first noticed his vision getting blurry.  Eric found out that he had the same eye condition as his brother after getting check out.  In spite of this new development in his life and having to slow down and take a few less classes a semester, Eric was still able to graduate with an Associate's degree.
For the past few years, Eric has worked as an Assembler/Packer.  Each day brings a variety of tasks rather than monotony.  He can be found hanging and packing index tabs on a pallet, working on a binder machine or collating and stapling headers onto mousepads. 
"It depends on the day.  I do whatever is asked of me.  I like the fact that it's not the same thing day in and day out."
In addition to the chance to partake in new and different tasks at his job each day, STLB, simply put, provides the opportunity for those with vision loss to be gainfully employed.
"It gives me a sense of worth and independence."
That is enough to motivate Eric to continue to do his job and help others on the job as needed.  When the opportunity arises, Eric hopes to advance in his career at STLB.
"Keep your head up, eyes open and be willing to take any opportunity you're given and make the most of it."
Eric's optimism and work ethic is a true example to STLB and the surrounding community!  Congratulations on your accomplishment!